The Clark County Health Department is invested in the health of the community. As a service to the citizens of Clark County, this webpage is dedicated to helping each member of the community to become more fit so that we can all enjoy longer and healthier lives.
Clark Memorial Hospital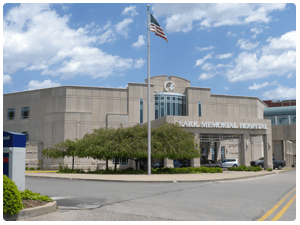 Please Note: Clark Memorial Hospital is not an agency of the Clark County Health Department.
Since 1922, Clark Memorial Hospital has provided exceptional health care services to southern Indiana. Located in Jeffersonville, Indiana, off of I-65, Clark Memorial is a comprehensive medical center providing advanced medical care with a personal touch. Our health care professionals balance sophisticated medical technology with compassionate, friendly service.
Clark Memorial Hospital is located at 1220 Missouri Avenue, Jeffersonville, IN 47130
Visit the Clark Memorial Hospital Website for information, community reports, services or even to volunteer!
Family Health Care Centers of Southern Indiana
Please Note: The Family Health Care Center of Southern Indiana is not an agency of the Clark County Health Department.
Family Health Care Centers of Southern Indiana
1319 Duncan Avenue
Jeffersonville, IN 47130
Phone: 812-283-2308
http://www.fhcenters.org
The Family Health Center of Southern Indiana provides the following services to patients:
Primary Health Care
Preventative Services
Pap Smears and Mammograms
Pregnancy Testing
Assistance with Medications
Well Child, Headstart, and adult work and school physicals
Dental Services
Optometry
Referrals to specialists
Case Management/social work
For more information about these other services, visit their website at www.fhcenters.org, or call their main office at 812-283-2308.
Lifespring Health Systems
Please Note: Lifespring Health Systems is not an agency of the Clark County Health Department.
LifeSpring's mission is "to improve and sustain the quality of life in our communities by providing comprehensive behavioral health, addiction, primary care and related services." Our values are, "It is our privilege to serve, with the highest quality of care, in a professional and fiscally responsible manner."
Click here for more information on Lifespring Health Systems
Additional Health & Wellness Programs
INShape Indiana
On July 13, 2005 the INShape Indiana program was launched statewide. This program was Governor Daniel's charge to the citizens of Indiana to make healthy choices in order to improve their health and quality of life. By being more active, eating better, and avoiding tobacco, Hoosiers will greatly reduce the risk of serious illness.
INShape Indiana's website www.inshape.IN.gov connects citizens with existing programs, services, and events in their area of the state that will help them to reach their wellness goals. So don't wait, join others in the state and begin your healthy lifestyle today!
Wellness Coalition of Southern Indiana
The Healthy Lives Clark County team came into existence as a result of the community receiving a Pioneering Healthier Communities (PHC) grant. PHC, funded by the Center for Disease Control and convened by local Y's, engages community leaders in policy and environmental change efforts that support healthy lifestyles. PHC empowers local communities with proven strategies and models to create and sustain positive, lasting changes for healthy living.
Click here to visit the Wellness Coalition of Southern Indiana Website