Covid-19 Vaccine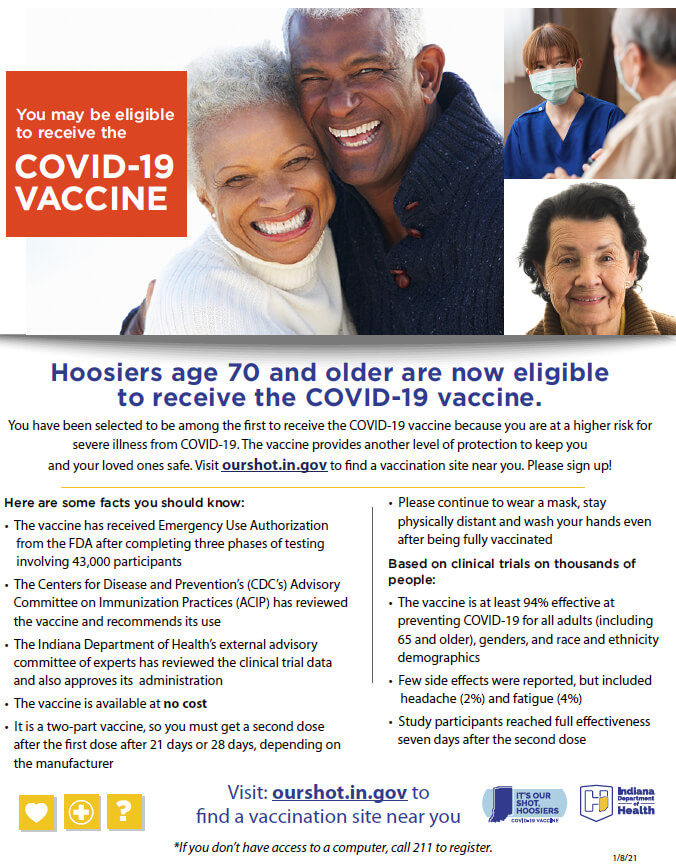 ---
Covid-19 Testing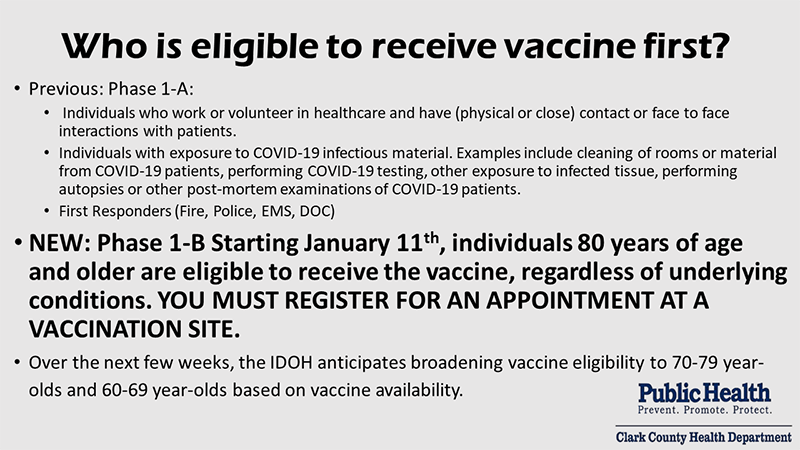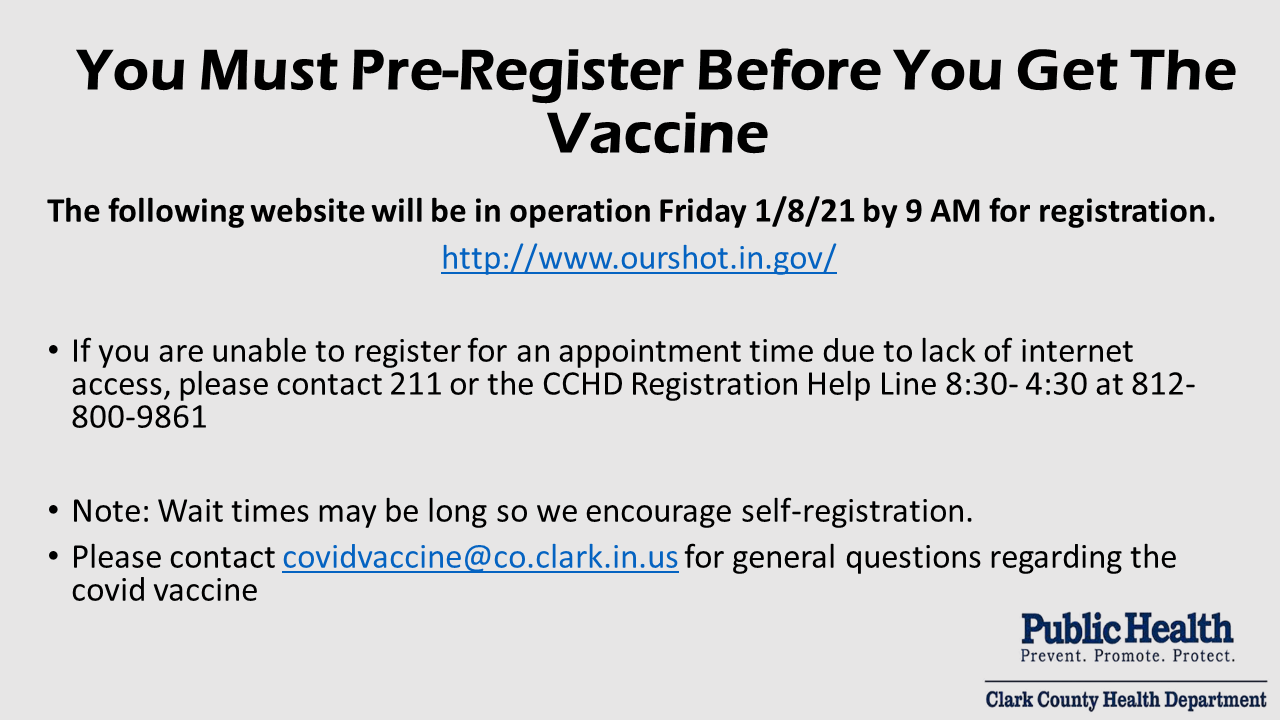 ---
Covid-19 Vaccine Eligibility
December 22nd
Distribution of the COVID-19 vaccine has begun in Clark County. Some groups are recommended to get a COVID-19 vaccine first. In place is a phased-in approach to determine who is eligible for vaccine first based on the most effective way to reduce the impact of COVID-19. This first round of vaccine will go to LONG-TERM CARE CENTER STAFF and FRONTLINE HEALTHCARE PERSONEL who may be exposed to COVID-19 patients or infectious material in their line of duty.
At this time, the vaccine is not being distributed to the general public and there is not a waiting list for the vaccine. The health department expects to use an online scheduling tool to make the vaccine distribution process more streamlined when vaccine is available. Keep in mind the vaccine will require a second dose and a person is not fully immunized until both doses are received.
Who is eligible to receive vaccine first?
If you have received a link from your employer or the Indiana Professional Licensing Agency and you answer yes to qualifying questions, you are among the first group of healthcare workers who will be eligible to receive the COVID-19 vaccine. Please make sure that your email address is current with the Indiana Professional Licensing Agency so that you will receive updates when registration is open. You will be contacted with details on how to register for the COVID-19 vaccine using the information on record with the agency.
The timeline for additional phases of vaccine administration is yet to be determined. Visit the Clark County Health Department website or Facebook page for updates. In addition, vaccine availability and tiers of eligible recipients can be received by texting "HealthInfo" to 888777.
---
ORDER OF THE CLARK COUNTY HEALTH DEPARTMENT REGARDING
ADDITIONAL COVID-19 RESTRICTIONS
FOR RESTAURANTS, SOCIAL GATHERINGS, AND EVENTS
January 25th 2021
The Clark County Health Department uses data and facts to determine policy and with all decision making. This has been true from the beginning of the COVID-19 pandemic. The local health officer orders restricting business operations and capacities have been a tool to help control the spread of COVID-19 over several weeks.
Based on the review of our current data, we are experiencing a downward trend of COVID-19 infections in Clark County, therefore we will not be reissuing the past local restrictions on restaurants or bars at this time. However, all applicable rules of the Governor's Executive Order apply to Clark County. Please visit www.in.gov for most current information regarding executive orders.
It is imperative that we work together to continue this trend, keeping in mind that actions we all have control over directly contribute to spread of disease and hospitalizations. We ask that each facility evaluate their COVID-19 plans, employ strategies known to reduce transmission such as washing hands, wearing a facial covering, maintaining social distancing, and staying home when ill or in quarantine.
We will continue to monitor data trends as we mitigate this public health emergency. We encourage everyone to be vigilant, stay safe, and consider those who are most vulnerable to COVID-19. Our ability to work together on these strategies will contribute to the return to normalcy that we all strive to achieve.
---
GOVENOR HOLCOMB ISSUES NEW EXECUTIVE ORDER
December 11th
Continuation of County-Based Measures and Restrictions Based on the Impact and Spread of the Coronavirus Disease - Executive Order 20-50
Additional information can be found here:
https://www.in.gov/gov/files/12-13-1-3-Coronavirus-Response-Requirements.pdf
---

---
Three Free COVID-19 Testing Sites in Clark County
Clark County Health Department now has coordinated with local community partners to operate 3 FREE COVID-19 Testing Sites.
The Clark County Health Department is pleased to announce a partnership with Clark Memorial Health to expand FREE COVID-19 testing in the Clark County Community. The Indiana State Department Health has reported a significant increase of community spread in the state as a whole, unfortunately, Clark County has followed that same trend.
Dr. Yazel continues to emphasize the importance of being vigilant as we enter into the fall and winter months when indoor activities increase, families gather for holidays, and a heightened risk of seasonal flu. These activities can quickly lead to increased COVID-19 transmission throughout the community.
There are many precautions to protect yourself from COVID-19, some are listed below:
Avoid Large Crowds
Wash Hands Often
Maintain Social Distancing
Wear a Mask
Stay Home if Sick
For more detailed information on ways to protect yourself from COVID visit www.cdc.gov.
We encourage everyone who is able to receive the seasonal flu shot to do so as soon as possible. It is unclear how COVID-19 and the seasonal flu will change the course of disease in the community. The Clark County Health Department offers flu shots for those insured and in some instances those who are uninsured, please call for more information about this service.
If you're experiencing symptoms of COVID please register for a free test at one of these sites:
Mobile Testing Site
Register at https://scheduling.coronavirus.in.gov/Home/LocationSelection
Clark Community Testing Site
1806 East 10th Street Jeffersonville, IN 47130
Register at https://scheduling.coronavirus.in.gov/Home/LocationSelection
ISDH/Optum Testing Site
2311 Sam Gwinn Dr Clarksville, IN 47129
Register at https://lhi.care/covidtesting
---

---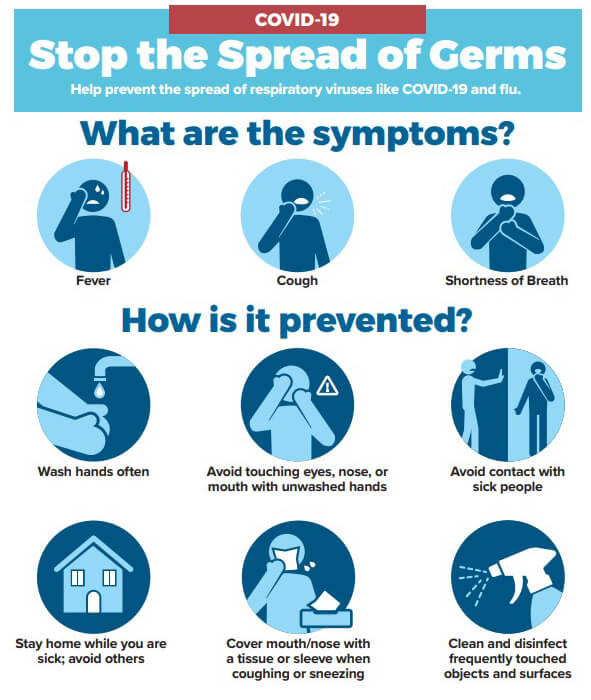 What you need to know about COVID-19 - CDC INFORMATION
INDIANA STATE DEPARTMENT OF HEALTH
COVID-19 HOTLINE
317-233-7125 or 317-233-1325 After Hours
ANY QUESTIONS & CONCERNS REGARDING COVID-19
https://www.in.gov/isdh/28470.htm